cookie-inställningar
Denna webbplats använder cookies som är nödvändiga för teknisk drift av webbplatsen och är alltid inställda. Andra cookies, som ökar komforten när du använder denna webbplats, används för direktreklam eller för att underlätta interaktion med andra webbplatser och sociala nätverk, ställs endast med ditt medgivande.
Dessa kakor är nödvändiga för butikens grundläggande funktioner.
Kundenspezifisches Caching
Dessa kakor används för att göra shoppingupplevelsen ännu mer tilltalande, till exempel för att känna igen besökaren.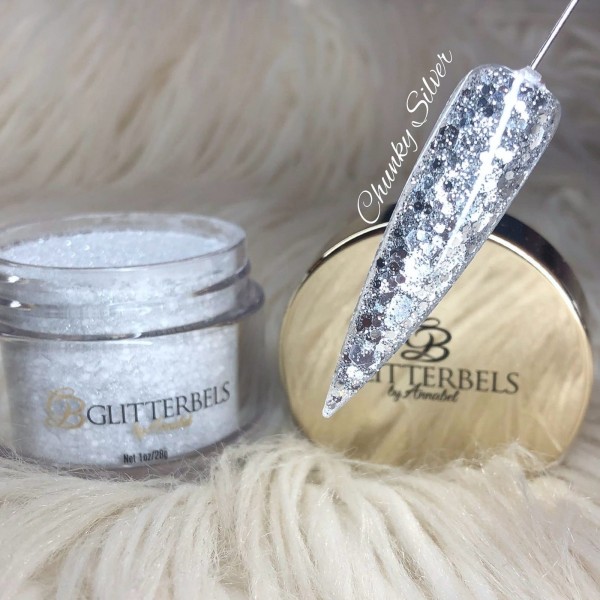 Den här artikeln är för närvarande inte tillgänglig!
Benachrichtigen Sie mich, sobald der Artikel lieferbar ist.
Innehåll:
28 g (433,11 SEK * / 100 g)
inkl. Moms plus fraktkostnader
Inhalt: 28gramm / 1(oz) Original Beschreibung von Glitterbels:  Glitterbels Glitter...
mer
Inhalt: 28gramm / 1(oz)

Original Beschreibung von Glitterbels: 
Glitterbels Glitter Acrylic powders are smooth to apply and made easier to control.
I advise using them as a design powder rather than strength , and to still cap in clear, I cap in Glitterbels Glass Slippers. I prefer this method as I find it better for building your apex and a better finish.
I use the Glitterbels VIOLET Monomer with my powders, however these powders are designed to work along side any Monomer you choose.
I hope you enjoy our Colour Powders!
Don't forget to tag our Instagram @glitterbels & @justnails_official when using them!
And come join my Facebook group – nails by annabel support group.
To show us your designs using them and also for any questions regarding our products!
Also check out my YouTube Channel to see me using these colours!
:- nailsbyannabelm
Läs, skriva och diskutera recensioner ...
mer
Kundbetyg för "GLITTERBELS CHUNKY SILVER"
Skriv recension
Recensioner aktiveras efter granskning.